Agile Canvas Workshop
Half day introduction to the Agile Canvas workshop for teams and organisations.
Please contact for further information
A short introduction for teams to agile principles and practices using the Agile Canvas
A practical workshop, teams will apply the agile canvas to current work and projects. Teams will map out future work, collaborate as teams to plan activity and identify key changes and improvements.
Create your own style of agile. During the workshop attendees will experience agile and how it applies to their own work and goals.
Project Management
Team Working and Collaboration
Managing day to day work
Events planning
Mapping out Ideas
The agile canvas has been used by hundreds of businesses, teams and individuals to help turn ideas into reality, manage chaotic projects, keep track of day to day activities and planning events.
Project and Team activity and planning
Mapping change and Improvement activity
Identify process improvements, gaps, trends, opportunities
Mapping initial ideas and activity for ideas and new projects
Workshop Enquiry
Attendees will receive their own Agile Canvas and a copy of Being Agile in Business as part of the course.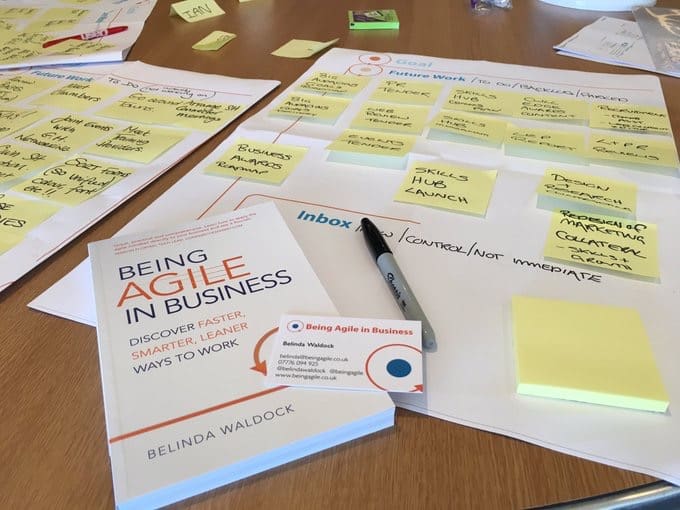 Suitable for:
Teams looking to explore the adoption of agile approaches
Non-Technical Teams
SMEs, Enterprise Teams, and Public Sector Teams
Business Management, Product Management, Project Management, Team Working
Teams preparing to work with an 'agile' supplier of products or services
Course Details
Half or Full day course
Course level : Introduction
Suitable for : all, no prerequisites required
Customised for team/organisation/sector
Type : Theory and Practical application
Delivery on or off site
Group size : flexible
Includes course learning materials
Half Day bytesize option available
Delegates will work on their own projects and at the end of the workshop have tools, materials as well as a sound understanding of the method to take away and implement.
Contact us to discuss your team and how agile can help improve your growth, well-being and productivity.
Booking Enquiry