Agile Course for Museums: Agile Curation at the Museum of English Rural Life & Reading Museum
Agile Course for Museums Example
Working with the Museum of English Rural Life and Reading Museum on their adoption of agile approaches across the museums teams including its application for exhibition curation, marketing and programme management.
I was delighted to spend time with the teams from the MERL (Museum of English Rural Life) and Reading Museum exploring how they can be a more Agile Museum. A seminar was attended by teams from both museums with a workshop to support their application of agile across the organisations including strategic planning, heritage projects, events and exhibitions, curation and marketing activities enable the teams to immediately implement agile working. Follow up sessions in person and across skype provided the team with ongoing coaching support on their journey.
If you would like to book an agile course customised for your team please contact info@beingagile.co.uk
Guy Baxter, Museum of English Rural Life, Associate Director
"The course linked theory/mindset and practice and the conversations were flowing well. I'm going agile!
Practical tools, but more importantly a clearer sense of how to relate them to my personal style and our working culture. This course is simple, well delivered and incredibly practical."
Alison Hilton, Museum of English Rural Life, Marketing Manager
"Belinda gave us an excellent introduction to the concept of Agile and the applications in managing teams and projects, demonstrating the potential benefits to our organisations of adopting Agile working. The workshop gave us practical methods to take away and apply to managing workflows and assessing current projects.
I am using my board to manage my personal workflow as well as the ACE project overall and in the short term to manage the planning of a forthcoming event with colleagues."
Caroline Gould, Museum of English Rural Life, Principal Archivist
"Positive ideas for how to manage workload. I was impressed that from a one hour introduction I learnt 2 practical techniques for managing workloads as an individual and as part of a team. I like the fact that it is very visual but also transparent as other colleagues can see the workload of the team."
Adam Koszary, Museum of English Rural Life and Reading Museum, Project Manager
"Agile can help free up space in your brain and help you track a rapidly changeable project, task or role more effectively. Belinda was the ideal person for opening the eyes of our stressed colleagues to the potential of Agile in their day-to-day work.
The half-day workshop is a concentrated introduction to Agile concepts, methods and practical applications which left everyone who attended inspired to immediately order a million post-it notes. I enjoyed the emptying of my head onto the project board and the movement of tasks across it. The transition worked well to reinforce how project boards help. I have already made a personal and project board, and we are trialling Agile for my own project and with those who attended the workshop. We have plans to potentially expand it to more people in both institutions."
Two weeks following the course
"The Agile workshop was a real invigorating experience. I left feeling enriched for life. it has given me a life tool to use not only in my professional life but also in my private life so much so that I have now passed on my newly acquired knowledge and skills to my immediate family members and friends. I think success is guaranteed for anyone who is equipped with such powerful knowledge and skills. Honestly speaking, I think it should be taught to all of us who aspire to do better and be instilled into young minds from very early on." Nitisha Ramrekha-Heeramum, Museum Diversity Team, The Museum of English Rural Life, University of Reading and Reading Museum
"I have found the 'Learn Act Reflect' board to be very useful for my own workload and collectively with the project team. It is a step up from writing down your tasks on a 'to-do' list or in a diary. With this plan you can really analyse everything that you are doing which can help to ease the pressure of working on a number of tasks simultaneously. It's a great feeling when you see your tasks gradually move into the 'Done' box!" Charlene Marriott, Museum Diversity Team, The Museum of English Rural Life and Reading Museum
If you would like to book an agile course customised for your team please contact us
Start a conversation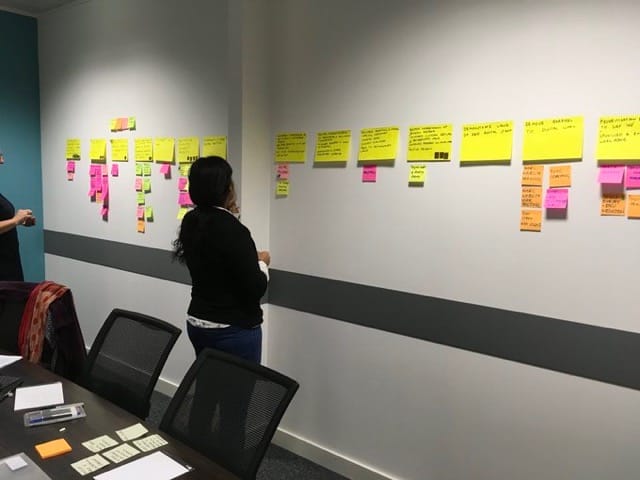 Examples from the Being Agile Course for Museums
Being Agile course for Museums
Course Details