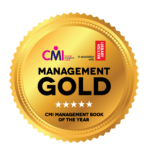 Being Agile in Business "A unified suite of practical tools" Chartered Management Institute
Being Agile in Business was shortlisted for the Chartered Management Institute (CMI) Management book of the year. I am delighted to see agile methods gaining positive feedback in the business management community.
The book received some great feedback from the CMI judges which was ranked in the top 5 of the 55 books submitted in the category.
Shortlisted for the 'Practical Manager' category at the Chartered Management Institute Management Book of the Year Awards. Judges' comments:
"A unified suite of practical tools that will enable all managers to work faster, think clearer and improve their agility." Ian MacEachern, Category Chair

"I would recommend it to leaders of SMEs, who are sometimes so immersed in the "now" they cannot see a way to get to a less stressful future." Quentin Kopp – Category Judge