Amazon Agile Books – Reviews for Being Agile in Business
There are an array of Agile books on the shelves now. Find out more about what people say about Being Agile in Business, a non-technical introduction to the agile mindset and its methods.
Agile Books : Amazon Reviews
"I've been practicing agile methodologies for years and it's nice to see these techniques emerging in to other business areas.
I think the principles can be applied just about anywhere from the work place to our everyday lives.
There should be more books like this." Paul D

"Excellent read, get agile save time & respond to rapid change.
Excellent read, Belinda Waldock writes in a very compelling style, its well organised, doesn't banboozle you with jargon, and where their are industry specific terms they're explained simply. She obviously knows her stuff and has practiced what she preaches. I've read many books which are like manuals for a methodology this is one of the best I've read. Great job." Hillsie
Start Reading
Friendly, Informative with clear examples. A must read.
By Tony Edwards 29 August 2015
This book is a great read for anyone wanting to explore Agile practices in both business and software.
After briefly exploring agile as part of my university course, this book has helped to fill in the blanks. More importantly it's helped me to understand why this methodology is effective, with clear and concise examples. The tone of writing gave me the feeling of being talked through the methodology by a friend, preventing the book from becoming a dry read.
As another reviewer has suggested, it's a great reference book that I keep going back to. After only a month its become one of by most read business books on the shelf. Buy it now.
A 5 star MUST READ for all Directors, Managers and Entrepreneurs.
By Mrs C N Greenon 16 July 2015 Belinda's book is a MUST READ for all Directors, Managers and Entrepreneurs. It's clear and straightforward. Adopting the Agile approach will help drive your business, motivate your team, strengthen communications and deliver your desired results. Since the 2008 crash, businesses have had to change the way they work. Agile allows businesses the opportunity to adapt to constant change and enhances communication across the team. Agile provides an immediate snap shot of where your business is and where it's heading. Agile utilises your resources and effectively preempts challenges, allowing solutions to be implemented to keep your business on track.
Not just for codeshops!
By Mark O. on 16 October 2015 Agile has a deservedly excellent reputation amongst the development community but what many people don't realise is that it is a powerful methodology and mindset right across your business. Belinda sets out to and succeeds in explaining why and more importantly, how to implement this approach. Her writing style is clear, concise and entertaining and the book is packed with practical methods, tools & techniques to support you in delivering your business goals. It is a real breath of fresh air to read a business book which genuinely offers the reader a way to free themselves from the shackles of command and control and get the most out of their resources.
The more perspectives and situations you encounter the better. Belinda's perspective from a business coaching point of …
By Olly Brand on 18 June 2015
This book presents Belinda's experiences and lessons learned from years of Agile adoption, practise and business coaching. A must read for any business considering adopting Agile, it will significantly speed you to Aha moments.
Agile is a perspective and situational method. The more perspectives and situations you encounter the better. Belinda's perspective from a business coaching point of view is a great read. Especially Software Developers looking for new ways to look at Agile, and people curious as to how Agile could be applied beyond Software Development
Olly Brand, IBMer and Agile Practitioner
Find Agile Books
shot through this book and then went back to read it again.
By Wo King on 23 June 2015 What the author shows is how Agile can add value to all aspects of your business and not just for technology firms. Advice I feel that has been born from real experience in delivering real value using Agile in the real world. I shot through this book and then went back to read it again. I don't post 5 star reviews often but I cannot recommend highly enough this book. It's now become a guide I have near my desk it's more than just a quick read. This will become a well thumbed companion.
An inspirational book… a must have for any business, which can be equally utilised in the readers' lives outside of work
By Miss V George on 15 July 2015 An inspirational book, which is very clearly written and straightforward to follow. This book provides the reader with a variety of practical tools and methods, which they can utilise both in their professional and personal lives, to equip themselves to tackle anything that life may throw at them head-on. The book will assist the reader in developing ways of adapting to work both 'smarter' and more efficiently to achieve their desired results. A real 'must read' book!
Required reading for the Geek Tribe!
By johnharveyguru on 25 June 2015 I have known Belinda for a while and consider her to be a fellow guru! she has all the qualities that I look for in fellow networkers: she's an expert in her field, she has integrity, and she's one of the nicest people I know. she shares her knowledge freely, is always happy to help, and is a bundle of energy with bubbling enthusiasm! This book is a stimulating read and conveys the principles of Agile Theory in terms that are accessible.
highly recommended!
An Agile book about 'being' as well as 'doing'… A must read
By Amazon Customer on 7 December 2015 I have been delivering and coaching Agile in the public sector for three years now. Often it can be a challenge to help customers to understand how Agile can assist in change without actually doing it with them. This book is the first book I've read that from start to finish I nodded 'So this is what I do!' and 'that'd make sense to customers'
It's an easy but such an effective read, my copy of this book has my notes for reference scribbled all over it.
Start Reading
More Reviews for Agile Books : Being Agile in Business
Clear guide for managing and improving your business
By MR MNJ TREBILCOCK on 5 November 2015
This book presents an introduction of great techniques and tools that are used successfully in the software development sector and shows how they can be applied to any business with great examples and case studies.
I thoroughly enjoyed reading the book and would recommend it to anybody that wants to improve both themselves and their business.
Six star review!
By Mel Colton-dyer on 23 October 2015 This book is superb! Practical guidance, help and explanations to support Directors, Managers and Entrepreneurs to do business better, faster, cleaner and without stress. If only there were six stars – the most helpful book on business I have read to date.
It has excellent explanations of why you would use the techniques and …
By Jayne on 29 July 2015 This is the book I'm recommending for anyone who wants to use Agile techniques in a non software environment. It has excellent explanations of why you would use the techniques and the benefits of they give you.
Excellent book. Very useful for anyone in business or …
By Miss T M Bailey on 15 June 2015 Excellent book. Very useful for anyone in business or anyone trying to re-evaluate how to spend their time/money/resources. Would definitely recommend it.
Brilliant concept!
By Marie Allen on 15 June 2015 This books is a tool for business and everyday life. You'll never get bogged down with decisions, resources or workflow ever again!
A "must read" book on Agile
By Rob Edlin on 16 July 2015 Simply a "must read" for anybody in business    
Start Reading
Five Stars
By P. Massey on 22 June 2015 Excellent.
Belinda's book is great…. get reading, short bursts and put it into action, the agile way
15 Jun. 2015 by william t cairleyThis review is from: Being Agile in Business:Discover faster, smarter, leaner ways to work: Discover faster, smarter, leaner ways to work (Paperback) In her book, Belinda shows you a fresh new approach; a faster, more visual way of checking, proving, validating all those things that too often we juggle inside our (over) busy head. Using her book to navigate the easy and fun process of getting control of any situation, she guides you through better uses of time, tools and methods. The benefits are quickly measurable by how much you embrace what you read… and put into practice, both in your business and personal life. Belinda makes it effortless to 'get it', from the basics, to the more in depth cultural changes that many strive to achieve, but few will reach without using Belinda's agile roadmap. A small investment in time and effort to read this book will enable a profound change for the good in how you work in future. We all collaborate in one way or another and again, Belinda shows some winning ways for sharing information, allocating workload fairly and clearly and enabling everyone to feel a valued team player. Belinda has assisted me greatly with my clients and I always look forward to working with her or co-facilitating agile sessions with new or established businesses. I use the whole agile way of working with both business and private clients. No more need for complex, computer based project management tools, hidden from view and taking hours to re-calculate when the inevitable 'unexpected' changes take place, on a regular basis… Now I 'get it out of my head' and with Belinda's agile visual tools and methods, I look at it from a variety of perspectives and can share or ask for help from whoever is in my virtual team… Learning this is easy, for all ages and experiences… If you want to save time, that precious commodity; avoid waste; communicate on workload and resources with friends or colleagues… get reading, short bursts and put it into action, the agile way. Will, Business and Personal Coach and NLP Master Business Practitioner
Can Agile work outside of software? – Yes it can, this book explain how
By Allan Kelly on 18 June 2015 In this book she gives her answer to the question: "Can Agile work outside of software?" and her answer is a definitive Yes. This is because Belinda has seen these things work with her own eyes, she has introduced ideas which originated in software companies to non-software companies and helped them do it. As a result this book is not a dry abstract discussion of theory but a discussion of these practices being in the real world – in actual businesses, in actual teams, in real, non-software, businesses.
At its most basic this book describes how agile practices can be used by every business to do their current work better. At the more advances level readers will see how adopting an Agile mindset can radically change and improve their business.
I should probably point out that I'm not completely without biases here, being the author of books on Agile myself and having contributed a forward to this book. Please don't think "This reviewer is writing a good review because he wrote the forward" think rather "This reviewer believes in the book so much he wrote a forward."
Book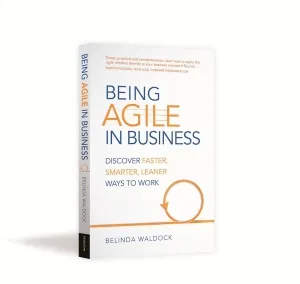 Get your copy!