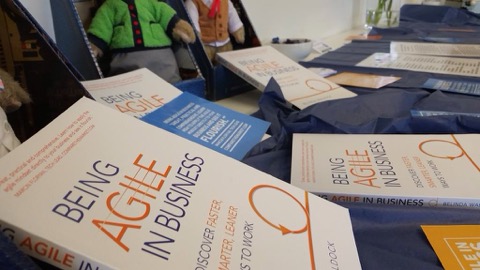 It's all go here with the book launch and I really hope you can make next Tuesday, details below so you have them to hand :o)
There will be tea/coffee and Prima pasties too :o)
It's at St Austell Print Company,
St. Austell Business Park
St Austell, Cornwall
If GPS use pL25 4EJ as the sapc postcode pins the wrong location – its near the skytip :o)
Many thanks to Peter for ensuring I have a gathering by inviting me to use their lovely sea view suite :o)
The sea (sometimes cosy mizzle) view suite is on the top floor. There's plenty of parking, come into the main (large) building entrance (right hand door) it's up the lift/stairs to L3.
If coming from a30 Best route – there are traffic lights by sapc with the new road but by 6 the traffic should be light.  Id suggest coming through roche (Victoria/Cornwall services a30 exit) to avoid the roadworks at Bugle.
Please do feel free to share with any contacts you think will be interested in agile and the book!
The book is now live on Amazon in paperback and kindle format so it's all go ready for the launch! :o) http://amzn.to/1Jfv8AK
Thank you for your support it is amazing, it's all very exciting and I'm really looking forward to celebrating with you next week :o) I'm on Twitter celebrating too so do please join me on there too !! Www.twitter.com/belindawaldock and on facebook at www.facebook.com/beingagile
best wishes
Belinda
RSVP : on facebook, meetup or by email belinda@beingagile.co.uk
New book ! Being Agile in Business
Game-changing new book reveals how Being Agile
can revolutionise the way you work to
achieve your business goals, fast
NEW BOOK: Being Agile in Business by Belinda Waldock
Agile is a methodology that has revolutionised the way thousands of the world's most fast-paced companies work. It allows teams to collaborate efficiently, break down projects to drive delivery and continuous improvement, and respond to changes and opportunities quickly. The agile approach has already transformed the software development industry, but as a game-changing new book, Being Agile published by Pearson, explains, the principles and mindsets of agile can in fact enable businesses in all sectors to work smarter and leaner to achieve their goals faster.
The author, Belinda Waldock is a leading business coach who has worked to help hundreds of small to medium sized businesses to overcome the challenges of fast growth by adopting agile practices. Her innovative approach involves taking complex situations and turning them into a simple series of options or solutions, and this method of breaking down tasks into bite-sized chunks has helped directors, managers and entrepreneurs to use their time more effectively in a fresh and fun way.
Being Agile in Business provides simple, jargon-free advice that is designed to be read in an agile way – in short bursts that can then be put into action in the real world. The book walks the reader through agile, explaining how the strategies and tools can enable organisations and individuals to work faster and smarter and navigate the uncertainty that all businesses face every day. As well as tactics, tools, templates and other practical guides, Being Agile in Business provides real life case studies to illustrate just how agile can enable leaders to find their own way to thrive in any situation.
Being Agile in Business by Belinda Waldock is due to be published in July 2015 from Pearson, the world's leading education publisher, priced £12.99.
To order your paperback or kindle copy visit http://amzn.to/1Jfv8AK